West Coast Ports Headed For Gridlock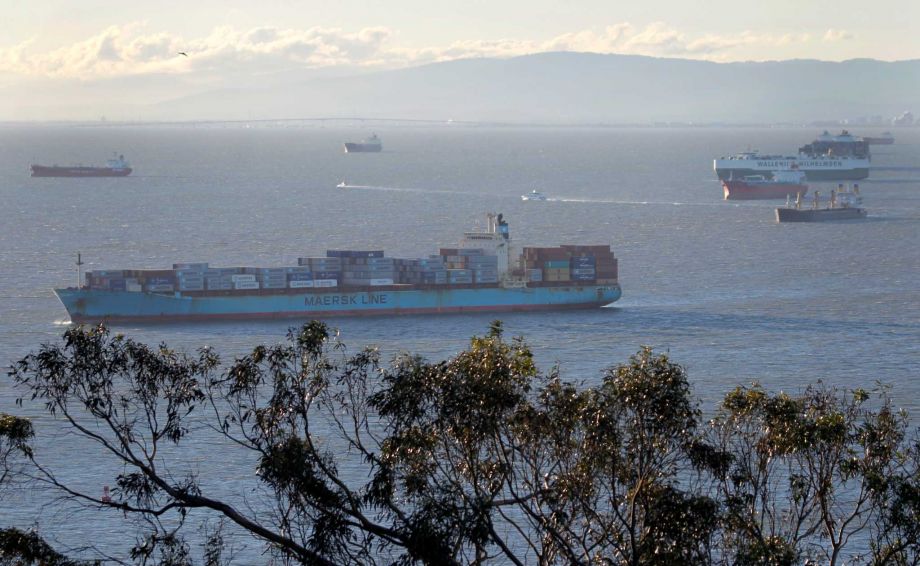 Photo: Paul Chinn / The Chronicle
As West coast ports take a turn towards complete gridlock, businesses continue to suffer
International shipping companies in the US and overseas are once again facing losses due to the deteriorating conditions at the ports. Even after making headway in negotiations, the stand off between the ILWU and the PMA continues.
While most details from the negotiating table have been kept private, recent media blasts by both ILWU and the PMA have been made public. Federal mediators were able to help achieve two resolutions this week, guaranteed pay raises and increased health benefits for ILWU members. While pay increase figures haven't been made public, new health care benefits for each union worker is estimated to cost $35,000 annually. But one of the remaining issues is the repair and maintenance of chassis, which currently provides hundreds of jobs to union members. The ILWU desperately doesn't want to lose those jobs to chassis-leasing companies, but any agreements might not even involve the PMA, since chassis companies are not bound by contracts between the PMA and ILWU.
Even this small progress, we are seeing no difference in the operating conditions at West coast ports. Cars being exported from the ports of Los Angeles and Long Beach are delayed by up to 8 weeks, while the port of Oakland is seeing more moderate delays that average 2 weeks. International car shippers need to anticipate delays that may certainly get worse in the future.
PMA has recently released new figures that indicate the ILWU has been keeping skilled workers from working. On November 3rd, the ILWU stated that it was going to withhold equipment operators for safety reasons. The number of skilled operators being dispatched daily dropped from 110 to 35.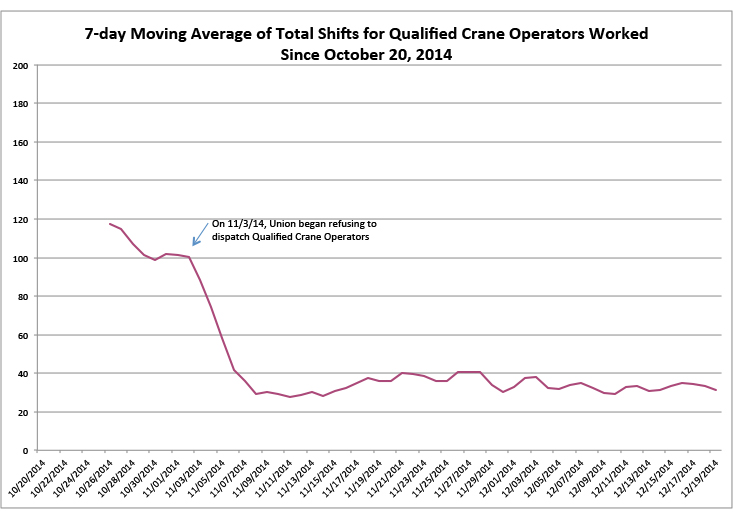 (Source: Pacific Maritime Association, JOC)
Shipping dates for exports no longer hold any ground as vessel schedules get changed numerous times per day without prior notice. Once imports are received in the ports, shippers get dispatch dates that again change numerous times and are often cut short, resulting in substantial storage fees. The truck turn times, which estimates how long it takes a trucker to pickup and/or return a container have skyrocketed, resulting in a much lower number of trips per day.
One truck driver with a daily route to the port has told us that some port terminals open sporadically throughout the day, decide to close early and decline to accept any more shipments. On certain days truck drivers are not even able to make more than one trip. The ability to do their job is impeded upon by unnecessary slow downs currently being experienced at West coast ports. It is becoming impossible for certain businesses to function at the level that their customers require.
The number of ships waiting to be unloaded is also quickly accelerating. As of January 16th, the ports of Los Angeles & Long Beach have 13 ships, Oakland reports 7 and Tacoma another 7. As ships wait to be unloaded, containers shipping overseas are piling up in the ports.
Due to these conditions, International car shipping companies are no longer able to guarantee on time shipments and deliveries of cars overseas. While West Coast Shipping will continue to monitor the situation at the ports, some factors are sadly out of our control. We will continue to provide the best overseas car shipping service that we can.
---