Mitigating the Risks of Coronavirus While We Remain Open
To mitigate the risks to customers and our team, our warehouses in California and New Jersey will no longer accept visitors from clients or vendors beginning Monday, March 16th. This is only a temporary preventative measure to ensure everyone's safety. We ship containers through the ports of Oakland and port of New York/NJ, both of which remain open today.
We will continue to accept vehicles and packages delivered to our warehouses and we will continue to load and ship your vehicles. Your dedicated account managers will work from home for the foreseeable future. We will continue to be reachable by phone or email.
If you are delivering your own vehicles and packages, we will accept them by appointment only. Contact your dedicated account manager to setup a time during our business hours of Monday to Friday, 8am-5pm. Please note all questions and requests will only be answered by email or phone to prevent in-person interaction.
We will do our best to ensure that you do not see any difference in our service. Your cars will continue to be accepted, loaded and shipped.
Classic cars in the US will become more affordable.
The US dollar just significantly dropped in value versus all currencies. The EUR/USD is now at $1.13 and the GBP/USD is at $1.28. The US government is planning additional rate cuts which will can further deteriorate the value of the USD.
We expect classic cars to become more affordable in the US not only as a result of the US dollar decline, but also due to the deteriorating economy. Just like the classic car values dropped in 2007-2009, we expect cars to become more affordable and easier to find.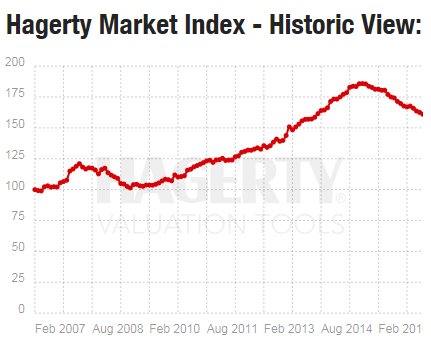 How to continue buying cars overseas safely
Due to the travel ban, clients who planned to visit the states and buy vehicles may not be able to do so. While this may limit some from entering the US, we continue to offer our escrow service, allowing you to buy and pay for vehicles securely from anywhere in the world.
We also work closely with a company which can inspect any car in the US for a fee. They do a good job and provide a thorough report. Let me know if you want me to put you in touch with them.
Be safe and take care of your families.
Sincerely,
Alex Naumov
COO
---