Shipping Cars Internationally: Update On Down Under
Service Change Alert for Shipping Cars Overseas to Australia and New Zealand
Dealers and individuals engaged in shipping cars to Australia and New Zealand (ANZ) should prepare for expected changes in shipping routes from the US West Coast to ports down under. These changes are due to Pacific International's (PIL) decision to shut down its service to ANZ. Since Aussie demand for classic cars remains strong, those shipping to Australia may wish to take special notice of this situation. See our top tips for shipping cars overseas to Australia.
Timetable for Shipping Cars Internationally to Australia and New Zealand
Several choices will remain for anyone shipping to Australia and New Zealand and at least 4 companies, including MSC, Hapag-Lloyd, US Lines, and Hamburg Sud will continue to provide direct service to ANZ.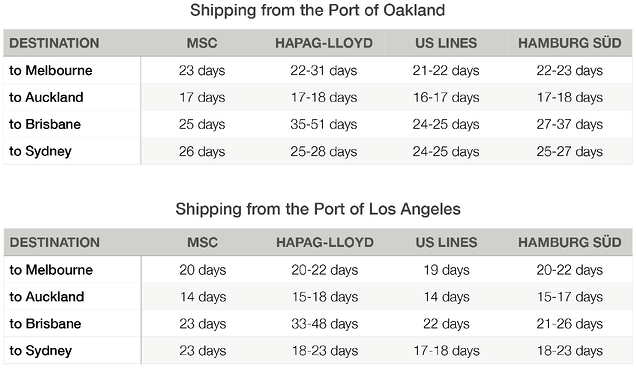 Learn more about our classic car solutions at our classic car section of our website.
PIL's Impact on Shipping Cars Internationally
West Coast Shipping (WCS) does not anticipate any delays due to PIL's decision, although unfortunately, there will be less space available to these markets. With less container space, WCS anticipates increases in international shipping rates to these destinations and the company is advising its customers to plan for cost adjustments in the near future. In the interim, WCS is monitoring the situation and will continue to keep customers up-to-date.
See current rates using our car shipping calculator.
---