30 vs 60+ Days in Transit from California to Europe
2021 brought challenges and opportunities to our industry. Congestion is at its worst. Much worse than anyone has ever experienced in the industry. Yet some trade lanes are doing better than others. Our shipments from California to North Europe continue to move with minimum delays.
We have analyzed the market data for shipments that took place in the last few months and the numbers speak for themselves. Because our strategy is to only use direct vessels such as Hapag-Lloyd and Yang Ming, our customers get their cars in half the time compared to shipping with MSC.
How important are transit times for you in today's market?
How many more exciting cars would you be able to invest in if you received your cars in Europe in half the time on average?
Below is a chart with actual shipments in the industry. Click on it to view the full image with actual shipping data.
Track the shipments using the below links by using the Booking or B/L numbers from the chart below.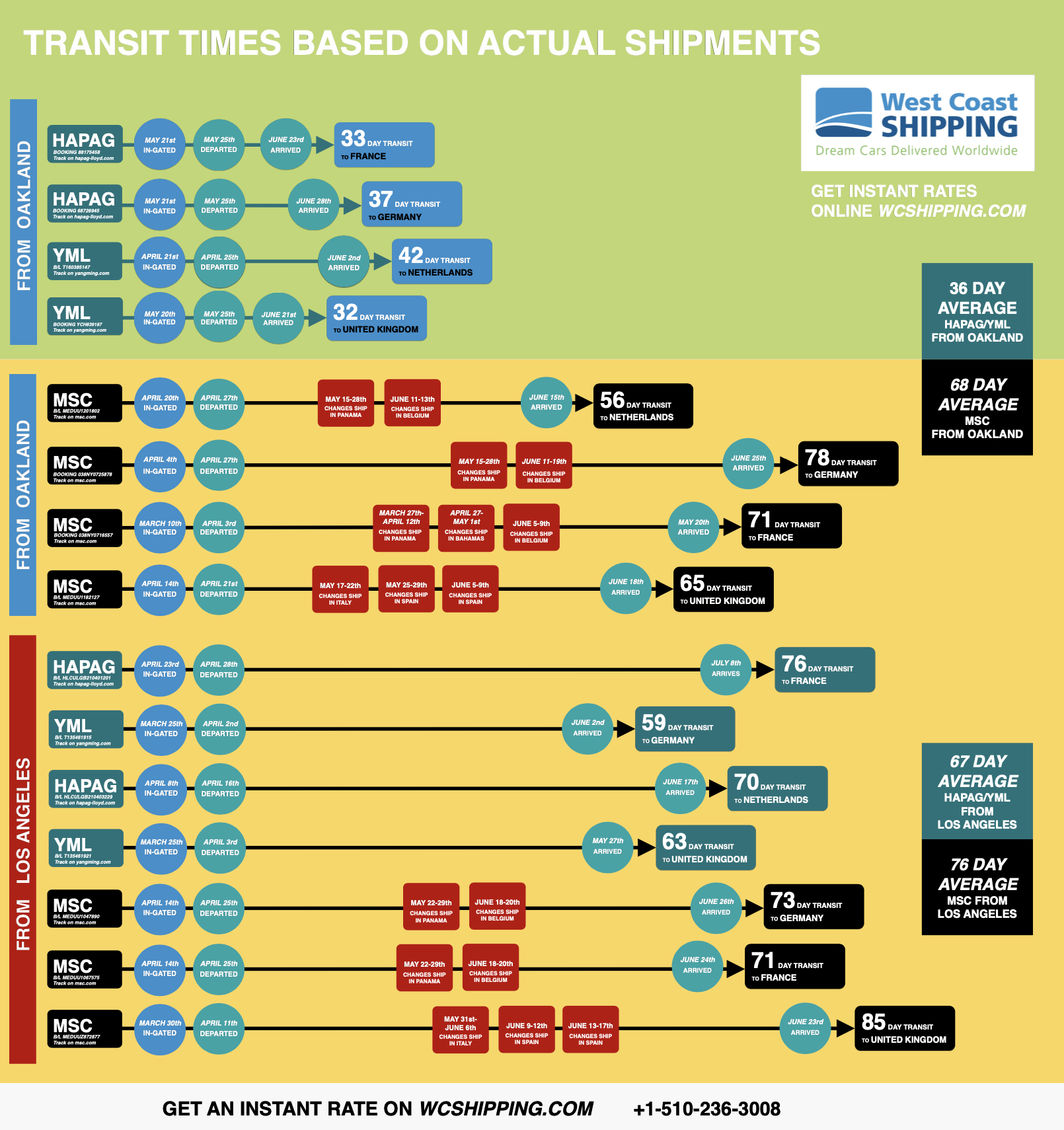 Why The Delays From Southern California?
Ocean carriers like MSC are not shipping directly from California to Europe. Instead, they make stops in Central America where the containers are unloaded from one ship and placed on another. Containers are often loaded and unloaded 3 to 4 times before reaching Europe.
Not only is it an added risk to have your containers loaded on and off numerous ships, but the congestion at the trans-shipment ports add weeks to your transit time.
Weekly Consolidation to Europe
Shipping to one of the popular ports in Europe where there's consolidation available? Deliver your car and documents to us on Monday/Tuesday and we will have it loaded by the end of the week. Prefer your own container? We continue to offer dedicated containers and 30 days free storage.
---