Top 10 Questions For The Best International Car Shipping Company
Shipping Cars Overseas? What to ask when looking for a reliable shipping company.
For someone shipping a car internationally for the first time, finding the best international car shipping company can seem overwhelming. However, by taking the time to organize a list of questions before you contact an international auto transporter, you can easily find a company to accommodate your shipping needs. We've put together this list of 10 questions to ask an international car shipping company to assist those who might need help with this task.
Also read How to Find a Reliable International Shipping Company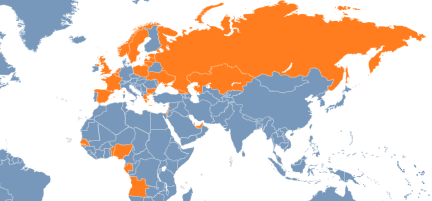 What are the top 10 questions?
1. Do you have a website?
Before you ask too many questions, it is always a good idea to find out if the company has a website. In addition to getting some background information, most international auto transporters websites will usually have a questions and answers section for you to look through. You should also check to see if they have any testimonials or references.
2. What type of protection do you offer?
Although they are all required to provide a limited liability policy, every shipping company is going to have a different policy. Make sure to find out all of the details about their coverage, and if you are not satisfied with what is provided then be sure to ask if they offer additional cargo damage protection for an extra fee.
3. What are your standard rates?
You will always want to ask a car shipping company what their rates are for the weight and size of a vehicle. It is also a good idea to find out if those fees cover import duties and taxes, or if you will be responsible for paying those out of pocket.
See more on international car shipping rates

4. Are you licensed with Federal Maritime Commission?
Make sure that any international auto transporter are licensed with the Federal Maritime Commission. You can even check the FMC's website since the company's name and FMC number should be listed there.
5. Do you charge additional fees?
On top of their standard shipping rates, some shipping companies add on a handful off additional fees. While these charges are typically rather small, it is always important to be aware of any and all charges you will incur during the transport.
6. Can I get an estimate?
You should be able to get a quote from a shipping company by simply answering a few simple questions, such as what kind of car or cars you are shipping and where you need it or them transported. However, in order to give you an estimate the representative is probably also going to collect your name and contact information, so be prepared for them to follow up with you.
See the international car shipping calculator
7. How should I prepare my vehicle to travel?
It is normally recommended that you remove most of the items from your car, especially all foods, plants, or any products that are illegal to ship overseas. Most shipping companies will also usually recommend you leave ¼ of a tank of gas in your car.
8. What documents will I need to ship my vehicle?
In addition to prepping your car to travel, you may also be required to present documentation that the car is yours, and a copy of you license or passport. Make sure you ask what documents you need so that you can be prepared.
9. When will my vehicle arrive at its destination?
Depending on how far in advance you call an auto transporter, they should be able to estimate when you car will arrive at its target destination. You should also find out if you will be required to pick up the vehicle at the port or if they can deliver it to a specific address.
See our tracking page
10. Any discounts or promotions?
Though not always the best question to ask first, if you are seriously considering hiring an international car shipping company, you might want to ask if they are currently offering any discounts or promotions. In today's economy many companies are willing to offer you a discounted price in order to seal the deal, especially if they know you are serious.
Use our international car shipping calculator to see current rates on car shipping.
Read our customer testimonials
---