Final Chance to Avoid a West Coast Port Shutdown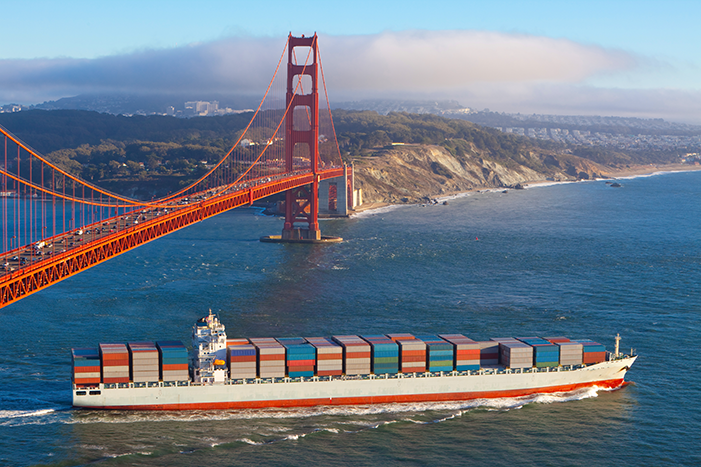 Port employees make over $250k/year. Union wants more and threatens to shut down US Economy
It's been almost 8 months since the previous contract expired and the time for negotiations is rapidly running out. After millions of dollars in losses by the shipping industry, the Pacific Maritime Association (PMA) has delivered a public ultimatum to the ILWU.
If their contract terms are not accepted, they would begin locking out workers from the ports. Which would result in a complete shutdown of all 29 West Coast ports, that together accounting for handling 12.5% of the U.S. GDP.
The Offer On The Table
According to the PMA, they no longer see a reason to continue paying ILWU dock workers for holding back skilled crane operators and causing slowdowns.
The final offer made public today by James McKenna, president & CEO of the Pacific Maritime Association, proposes the following terms as part of a 5-year contract.
3-5 percent pay raise for dock workers who, according to the PMA, earn on average of $147,000 per year

A fully paid health care plan, better known as the "Cadillac plan", which has no premiums, co-pay or deductibles. Valued at $35,000 per year, per worker.

Pension plans get an 11 percent increase, bringing them up to $88,000 per year.

Guaranteed workload of 40 hours per week

Allowing the ILWU to oversee and maintain chassis

If the contract is not accepted the PMA will lock out workers
Robert McEllrath, the president of the ILWU, has called the "a reckless and unnecessary move." He further states that "what the employers need to do is stay at the negotiating table and work through a few remaining issues with the workers who have made them successful for the past 80 years."

One of the last issues remaining was ILWU's right to unilaterally fire a local arbitrator. Which the PMA says opens the door for the union to fire any arbitrator that doesn't rule in their favor.
What Is At Stake
According to a report by the Interindustry Forecasting Project, a complete shutdown of 29 West Coast ports will carry an economic cost of $688 million a day for the first five days, $1.1 billion a day for an 11-day work stoppage, and $2 billion a day for a 20-day stoppage. The losses are estimated based on lost sales, increased inventory costs, and markdowns by both importers and exporters.
With the ports of Los Angeles and Long Beach already experiencing a 40-50% drop in productivity, an ever expanding bottleneck has been created in the shipping industry. There are currently dozens of ships sitting idle off the coast of California, unable to dock because the previous ships have yet to be cleared.
Intermodal transport is having trouble keeping up with the large number of containers still stuck at the ports. And chassis shortages are rampant, causing companies to miss shipments. Some truck drivers are seeing their income cut in half due to increasing turn-around times and the decreasing number of trips to the port.
Source: Marine Exchange of Southern California and Vessel Traffic Service of Los Angeles and Long Beach.
US companies are having their freight delayed by up to 8 weeks on the West Coast, which is resulting in more than an annoyance for some businesses. The estimated annual economic impact of cargo handled at West Coast ports is 37 percent of California's gross state product, 4.65 percent of Oregon's, and 60.68 percent of Washington's.
Boeing has already moved production of the 787-model aircraft to South Carolina to avoid being affected by any slowdowns or shutdowns on the West Coast.
Frozen fruits & vegetables, beef, pork, poultry, rice, and nuts have all suffered millions in losses due to the bottleneck. The US beef and pork industry have already lost new South Korean business because of the slow downs.
International car shipping has also been affected by congestion. Los Angeles car exporters are having problems in getting containers to the port due to unpredictable early port closures and constant delays that last up to 7 weeks. The Port of Oakland is fortunate enough to be experiencing far less congestion.
Japanese automakers are beginning to shift their parts shipments to expensive air cargo. Nissan and Honda have both been forced to ship certain components via air. While Subaru is spending over $60 million for air freight each month.
Read More About West Coast Ports Headed For Gridlock
Suspension of Operations Over the Weekend
Operations at the Ports of Los Angeles, Oakland, and the rest of the 29 West Coast ports will be suspended over the weekend. The PMA states that they will stop all vessel operations until Monday because of the ongoing union slowdowns. Some terminals will continue to function, but nothing will get loaded or unloaded on the shipping vessels.
Craig Merilees, a spokesman for the ILWU, says "we're a 100 percent committed to the negotiating process and our number one goal is reaching an agreement as soon a possible so that will continue even though the employers make these crazy kinds of moves to shut down the port and try and hurt people in the process."
Sources: Bloomberg, Dailybreeze, Capital Press, CBS San Francisco, Business Insider
---