New Car Shipping Rates & Service to the Middle East
Hello readers! I have some exciting news to share with you today. As you may know, there have been some changes to the way we handle service and shared container shipping to the Middle East. These changes are designed to improve our efficiency and better serve our customers in the region. We're always looking for ways to innovate and improve our services, and we believe these changes will do just that.
So what exactly are these changes? Well, we've streamlined our processes to make them faster and more reliable. We've also invested in new technology and equipment to make our operations more efficient and environmentally friendly. And we've expanded our network of partners and agents in the Middle East to ensure that we can offer the best possible service to our customers. So whether you're shipping goods to Dubai, Riyadh, or Doha, you can rest assured that we have you covered. We're committed to providing you with the highest level of service and support, and we're confident that these changes will help us achieve that goal. Thank you for choosing us as your shipping provider, and we look forward to continuing to serve you in the future!
United Arab Emirates Shared Container Service
We provide consolidated shipping to the UAE from both NJ & CA.
From NJ to Jebel Ali: $1,150 per car
From CA to Jebel Ali: $1,400 per car
Saudi Arabia Shared Container Service
Consolidated shipping to Saudi Arabia from both NJ & CA.
From NJ to Dammam: $1,400 per car
From CA to Dammam: $2,000 per car
Wholesale Rates to Jebel Ali from CA, NJ & FL
Shared container service to Jebel Ali is now available from California and New Jersey. We continue to offer special wholesale rates for customers filling their own containers.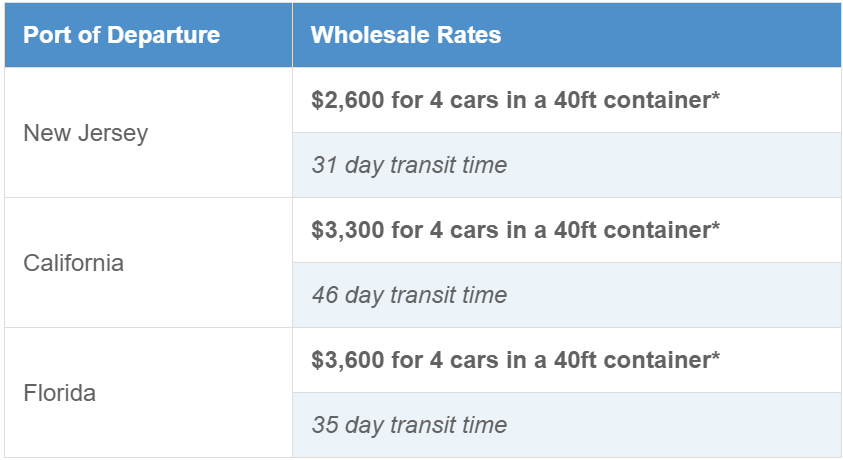 *Monthly volume of 5 containers per month with 4-cars per container.
More Destinations in the Middle East
Despite shared container service only offered for the UAE and Saudi Arabia, we continue to ship cars to other destinations in the Middle East using dedicated containers. Here are the destinations we ship to in the Middle East:
Jordan

Bahrain

Israel

Kuwait

Lebanon

Oman

Qatar

& more
---