Containers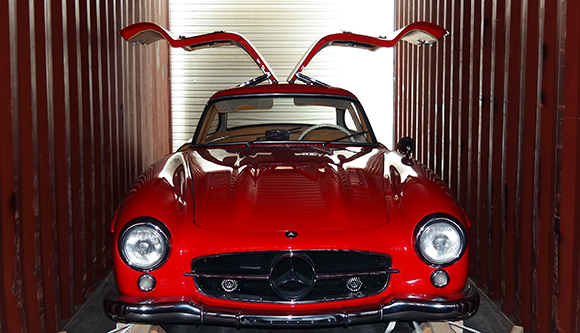 Any time you are shipping more than one car at a time, your best option is shipping in a container. Since the first container was shipped in 1956, it remains as the most efficient and environmentally friendly way of moving goods overseas. Which is why ocean containers are the preferred method of shipping cars to the Middle East. Any type of car can be loaded and shipped in a container. Sedans, coupes, SUVs, pickups, minivans, you name it. Depending on the size of the vehicles, we can fit up to 6 cars in a single container using our extensively developed and tested loading techniques. Unlike other car shipping companies, we do not use chains in our containers because they will damage your car during transport. Our custom loading techniques allows us to minimize waste, and ensure your vehicles are properly secured during shipping.
Each car is strapped in the container using the optimal mounting point. A frame is built around the vehicles on the lower level, providing extra space for other cars, goods, motorcycles or auto parts in the container. No matter the car, or destination, we use the best material available to ensure your car arrives overseas in the same condition we received it in.
Roll-on/Roll-off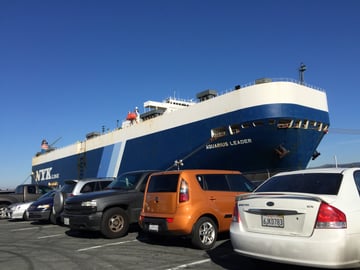 An alternative to shipping cars from the USA to the Middle East in containers, is shipping via Roll-on/Roll-off service. The car is also shipped on an ocean liner, but instead of the car being loaded into a container, it is driven inside of a RoRo ship. There it is simply strapped down to the deck, along with thousands of other vehicles. In order to ship your car via RoRo, it must run and drive, and you cannot have anything else inside of the vehicle other than a spare tire and jack. Shipping RoRo to the Middle East is the preferred method when one or two modern used cars from the Eastern US Coast. RoRo can sometimes be cheaper than container shipping, but not all ports support it. We can currently ship RoRo from New York, Baltimore, Charleston, Wilmington, Jacksonville, Savannah and Houston. RoRo can be shipped to Jordan, Jeddah, Kuwait, Bahrain, Doha, Jebel Ali, and Port Sultan Qaboos. To get a quote on RoRo shipping to the Middle East complete this form.