How Cars Are Shipped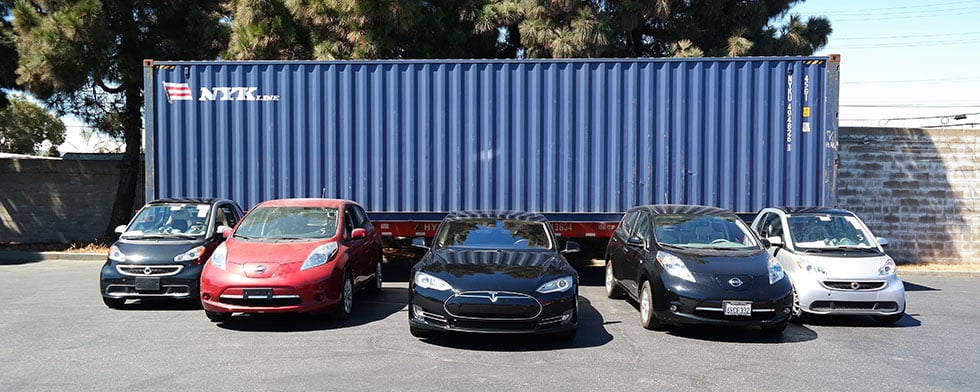 When shipping cars from the United States you have the option of shipping in a container by sea, on a roll-on/roll-off vessel, or by air freight.
Air freight is usually reserved for the most expensive cars because of the freight cost involved. Prices on shipping your car by air range from the USA start from a few thousand dollars. The most economical method of shipping your car to Ukraine is in a container. This is because you can place anywhere from one to four cars in a single container, along with any household goods, or auto parts. Vehicles being shipped in a container do not have to run and drive, we are able to load salvage and parts cars using our specialty loading techniques. Our loading team can fit 4 Nissan Leafs in a single 40ft container, or 6 Smart cars. If you are unsure if your car will fit into a container, contact us and we will be glad to help. Cars are loaded securely into a container and shipped to the port of Ilyichevsk or Odessa. From California it takes containers around 33 days to arrive in Ukraine. From New Jersey it averages around 21 days.
RoRo shipping a car from the US to Ukraine is also an option. However, your car must run and drive because it will be driven on and off the ocean vessel.
Ukraine Car Import Tax
Contact the Embassy of Ukraine.
Requirements for Shipping
Many first time shippers come into our office expecting a complicated process when moving their cars overseas. However, at least on the US side it could not be any easier. We work to minimize the amount of paperwork required. We also work directly with US customs to ensure each step of the car export process is done correctly.
There are a few documents we do require:
Live chat with us today if you have any questions.