Shipping Boats Internationally
Basics of Shipping Boats Overseas
Shipping boats overseas sounds redundant but it's not. Demand for shipping boats internationally stems from several sources including individual yacht owners, new boat manufacturers and dealers, and used pleasure craft traders. Whatever category you might fall into, there are key things to know and understand before letting your boat set sail from the US to other international destinations.
Interested in learning more about international shipping? Click here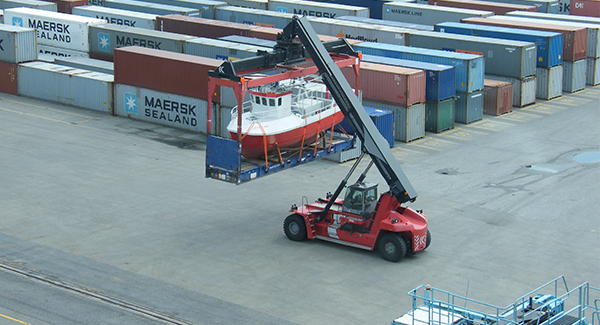 How will the boat(s) be transported? There are three basic ways boats can be shipped.
By Container - assuming your boat does not exceed certain size limitations. For example, to ship inside a 40 foot container the boat length needs to be less than 39'5" or 12.03 meters. Its beam may not exceed 8'6" or 2.59 meters unless it can be loaded sideways into a high-cube container where the beam can then reach 8'9" or 2.65 meters. The height must be less than 7'9" or 2.385 meters; if loaded sideways into a high-cube container the limit is 7'7" or 2.31 meters.
VIA Flat-Rack - most frequently used to ship larger boats. Boats shipped using this method are typically placed into a custom built cradle, strapped tightly to a flat-rack and then carefully secured to the shipping vessel.
Roll-on/Roll-off - commonly referred to as RO/RO, is where a boat is transported from port to port on the boat owner's trailer or on a trailer provided by the international shipping company. Most boats are shipped using this method. West Coast Shipping uses RO/RO for boats exceeding 39'5" to ports where this option is available.

Questions to Ask When Shipping Boats Overseas
How will my boat get to the departure port? Who will arrange transport upon arrival? Most reliable international shipping companies can assist you in arranging safe transport for each leg of the journey.
Who will actually load and unload the boat? Many companies outsource this portion of shipping boats internationally. West Coast Shipping is one of the few companies that has opted to keep this delicate part of the operation in-house. Each step of the loading and unloading process is subject to intense supervision and scrutiny, designed to maintain the high standards set by the company.
What needs to be done prior to shipping? Don't forget that dimensions matter: measure accurately. Be prepared to disassemble key parts as this can reduce the space required for shipping. As is true with shipping any cargo overseas make sure you have all required permits and documentation, adequate damage protection and clearances for the size boat you are transporting.
How does my boat fit in? A reliable international shipping company should be prepared to successfully load sideways into a high-cube container, provide advice on how to minimize dimensions if you are using your own trailer or build a secure cradle for shipping via flat-rack, and make sure that all shipments will meet height restrictions during transport to the port.
Please contact West Coast Shipping for an instant international boat shipping quote. Boat Shipping Quote
---