12 Tips for Shipping Cars Overseas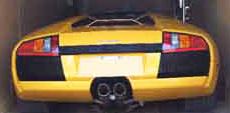 Unfortunately when shipping cars overseas, getting them to their destination can be a difficult and time-consuming process. Whether you are moving to Europe and need your vehicle there before you arrive, or are a dealer trying to have cars you bought at auction shipped to a foreign port, finding a reliable shipping company and setting up a safe trip for your vehicle can be a daunting task. Fortunately, with the right knowledge you can easily get your car shipped to your destination in no time at all. To help all of our blog readers make informed decisions we have put together the following list of everything you need to know...

Learn more about international car shipping here
1) Choosing an International Car Shipping Company
If you are shipping a car or shipping cars internationally, take your time finding a reliable international car shipping company. Make sure the company is registered with the Department of Transportation and has both a Motor Carrier (MC) and U.S. Department of Transportation (USDOT) registration number.
Read Top 10 Questions to Ask an International Shipping Company
2) Research Before Shipping Cars Overseas
Before you hire a car shipping company do your research ahead of time. In addition to having the proper registration numbers, you will also want to verify their authenticity. Check with the Better Business Bureau to see if the company has had any complaints filed, and if so find out how the issues were resolved. You can also research the company online and contact any references listed on their website. By taking a little extra time to find a reliable international auto transporter you can rest assured that your vehicle will be treated with care.
See How to Find a Reliable International Shipping Company
3) Checking for Cargo Damage Protection
Although carriers are required to carry a limited liability policy, it is your responsibility to ask for proof and verify that the information is correct. You can do this by checking Siafersys.org or by checking with the shipping company.
4)

Dropping

Off and Pick Upping Up

Some car shipping companies will pick up your vehicle from your home, or if you are purchasing a new vehicle then they may even pick the car up directly from the dealership. However, other car shipping companies have a designated drop off spot. In addition, depending on your destination, a reliable international car shipping company may be able to get your vehicle to its exact destination, or you may need to arrange for the vehicle to be picked up at a terminal. These are questions you want to ask when choosing your international shipping company.

5) International Shipping Rates
Expect to find a range of prices when shipping cars internationally. The most determining cost factor is the type of car(s) you are shipping. International car shipping companies generally charge more to ship sport utility vehicles than compact cars or motorcycles. Other factors include your destination and the possible cost of cargo damage protection.
6) Time Variations
The time it takes to ship your car internationally can vary widely depending on where the starting port and the final destination. If you are only shipping your car a short distance then it might only take a few days. However, if you live in California and are shipping a car to the Middle East then it will take much longer. With long trips, your vehicle is going to need to go through numerous ports, and will have to deal with customs at each location. Because of this, it is advised that you plan your shipping at least a few weeks ahead of time, to ensure that your car(s) arrives before you do.
Learn about shipping cars overseas to different regions
7) Preparing your Car for Shipping Overseas
There are a few things most shipping companies ask of their customers before their cars are picked up. First you should remove any items in your car that you do not want shipped overseas. Also, as a precaution you should take pictures to document the current condition of your car. That way you will have proof should something happen to your vehicle during shipping.
8) Storing Items in the Vehicle
For whatever reason, you may want to use your car as storage and place items in it before shipping. However, there may be a few risks. Make sure you are not transporting any items considered illegal by the countries you leave from, go to, or pass through, or you may have problems with customs. If you do decide to store items in your car, consider purchasing optional cargo damage protection from your international auto transporter.
9) Gasoline in the Vehicle
Most shipping companies recommend that you leave about ¼ of a tank of gasoline in your vehicle when you ship your car overseas.
10) Dealing with Customs
Most shipping companies have customs brokers who work on your behalf to get your vehicle safely and swiftly through customs. This can be very helpful, as dealing with customs on your own can be confusing and you want to make sure everything is done correctly.
11) Additional Car Shipping Needs
There are several standard services most international shipping companies provide. However, you may have additional needs that are not usually offered. When screening potential carriers make sure to state your specific needs and ask questions to make sure your requirements will be met. Most reliable international shipping companies will be willing to work with you, and will go to great lengths to ensure you are satisfied with your transport experience.
12) Shipping Contracts
You may be asked to sign a contract or agreement before having your vehicle shipped. This is pretty standard. As with any contractual obligation, read each line carefully and don't be afraid to ask for help if something is unclear to you.

See the current international shipping rates by using our car shipping calculator here.
---